Co-written with Honor the Earth's Winona LaDuke and first published at Civil Eats.
For 50 years, a single company has extracted millions in profits from one of Minnesota's most important and ecologically vulnerable regions, the Pineland Sands. The 770-square-mile area in northern Minnesota is home to globally threatened jack pine forests and abundant streams and wetlands. It is also underlain by a critical, shallow and highly vulnerable drinking water aquifer.
In its wake, the company has left poisoned rivers and drinking water and clear-cut forests. The company reaping all this devastation isn't another corporate mining consortium or transnational oil pipeline, but a sprawling potato harvesting and processing empire run by the R.D. Offutt Company (RDO), based in Fargo, North Dakota.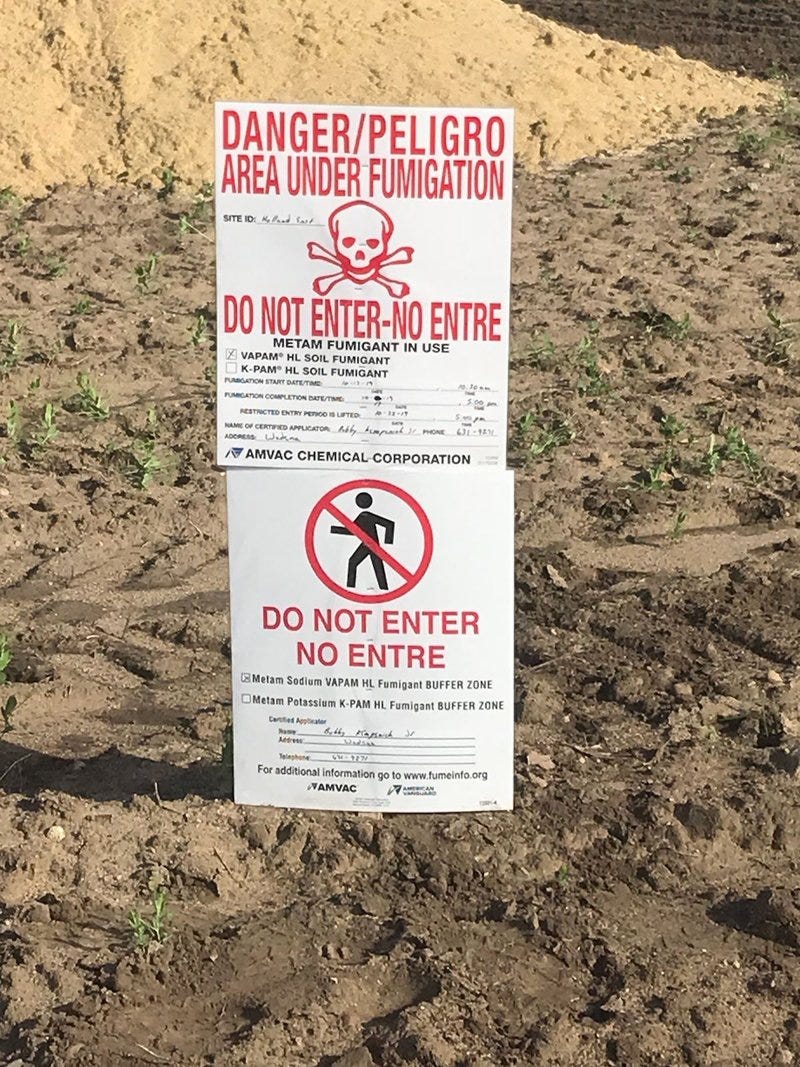 Photo credit: Mike Tauber
RDO is a $2.5-billion-a-year agribusiness that supplies potatoes to McDonalds for its French fries. It consistently ranks near the top of the largest farm operations in America. According to a bio from North Dakota State University, where RDO founder Ronald Offutt sits on the board of the Center or the Study of Public Choice and Private Enterprise, RDO is the nation's largest producer of potatoes, and the company also operates a 22,000-acre farm near the Black Sea in southern Russia.
Minnesota's Pineland Sands region encompasses White Earth and Red Earth tribal lands and holds the headwaters of the Mississippi River. Conversion of pristine forests to grow RDO's potatoes has heavily contaminated the region's waters with toxic nitrates, which flow downriver, fueling the huge "dead zone" in the Gulf of Mexico.
According to a Minnesota Pollution Control Agency study, nitrate levels in the Straight River, which cuts through the Pineland Sands and is surrounded by RDO irrigation wells, are now 100 times higher than areas not harmed by industrial potato farming.
The Red Earth and White Earth bands of the Ojibwe Nation, and Honor the Earth, a national Indigenous-led environmental justice organization, were the first to fight back in the early 1980s. In October of 2001, tribal members published "Potatoes, Frogs and Water: R.D. Offutt Co. and Northwestern Minnesota's Future," a report that detailed the impact of the company's extractive farming practices on water quality, wildlife, and people.
Since then, people in the area have been fighting to protect the Pinelands. But RDO has continued to expand.
In 2015, Offutt stated publicly that it had bought approximately 8,000 acres of forest land in the Pineland Sands. Originally, it sought to convert all of its newly purchased land to industrial potato production, but the company ultimately temporarily withdrew most the of its initial 54 irrigation permit requests when the state's Department of Natural Resources (DNR) refused to approve them en masse without environmental review.
Now, a coalition of local community members, activists, scientists, legal experts, tribal representatives, and environmental groups are fighting DNR's decision to approve three of RDO's remaining irrigation permits in court.
On February 25, the Minnesota Court of Appeals heard oral arguments in the case. While the DNR defended its decision to approve RDO's latest expansion, the coalition argued that expansion will irreversibly contaminate and deplete drinking water in dozens of private wells, the Redeye River, and hundreds of acres of protected wetlands. The group further argued that DNR had not done an adequate environmental review and that the proposed RDO site will expose neighbors to cancerous and neurotoxic pesticide drift.
Supporting the coalition in an amicus brief, the Pollinator Stewardship Council argued that DNR violated state policy by ignoring undeniable negative effects to pollinators, despite two state executive orders that have directed the agency to take the lead in addressing large-scale die-offs and other widespread pollinator harms.
RDO has used a land swap scheme—which involves selling land to farmers who then lease it back to the company—to push through its expansion, avoid responsibility, and shirk environmental review. The RDO-linked irrigation permits being challenged in the Minnesota court of appeals would allow an RDO-funded operation to pump 100 million gallons of groundwater a year, completing the conversion of over 300 acres of pine forest to potato growing.
The Minnesota Court of Appeals is expected to hand down their decision before the end of May. Based on the case record and multiple denials of community petitions for environmental review over the years, it's clear that RDO has friends in key regulatory positions.
The company's campaign contributions to state lawmakers—one RDO champion ludicrously believes "water cleans itself"—also stacks the deck against the coalition opposing the permits. Not only do these lawmakers control the regulatory agency's budget, but they are also currently considering legislation that would further endanger the natural resources in the Pineland Sands.
Independent scientific analysis conducted by George Kraft, a University of Wisconsin scientist working with the Environmental Working Group (EWG), confirms that RDO's latest proposed irrigated potato site would increase local groundwater and drinking water contamination to double or quadruple the legal limit under the federal Safe Drinking Water Act.
The stories on the ground undergird this harrowing scientific assessment.
"I can't get fresh air, because you can smell the pesticides in the air when they spray, and I have to close the windows," said Evelyn Bellanger, a member of the Ojibwe Nation who lives on the White Earth Reservation. "Tribal sovereignty—the critical right of White Earth members to self-govern—is directly tied to food sovereignty and our ability to feed ourselves. But the fallout from RDO's industrial agriculture practices and other land developments has affected our ability to hunt, fish, and harvest wild rice."
Mike Tauber, a plumber who lives in Hackensack, on the eastern edge of the Pineland Sands, has seen his neighbors lose their access to well water to nitrate contamination. "We're living in a giant chemical experiment," he said. "There are going to be casualties."
"This morning before I got out of bed, all I could hear was the sound of RDO's irrigation system running," said Brenda Davis, a resident of Mow Lake, just south of the Pineland Sands. "You get used to it after a while, just like the helicopters that fly overhead to spray. The state needs to quit issuing irrigation well permits. We know what they're doing is going to contaminate drinking water, especially up in the sand country."
It is long past time for RDO to be held accountable for its actions. In addition to ignoring residents' fears, the DNR's environmental assessment also ignored the state Department of Health's clear statements regarding the link between pesticide use and non-Hodgkin's lymphoma, a type of cancer that occurs at a rate in Wadena County, the location of RDO's most recent proposal.
Our coalition—which includes Honor the Earth, Pine Point Tribal Community, Minnesota Well Owners Organization, Northern Water Alliance, Toxic Taters, E WG, the Pollinator Stewardship Council, agricultural experts, and retired state agency officials—is simply asking DNR to follow the law, complete the environmental review, and uphold its duty to protect public health and the environment. The Minnesota Environmental Protection Act requires a full evaluation of impacts to people and resources before projects take place—because once they occur, the harm to human health and natural resources often cannot be undone.
The stakes couldn't be higher. If it's allowed to move forward, RDO's latest project will undoubtedly devastate one of the last remaining uncontaminated areas in the Pineland Sands.